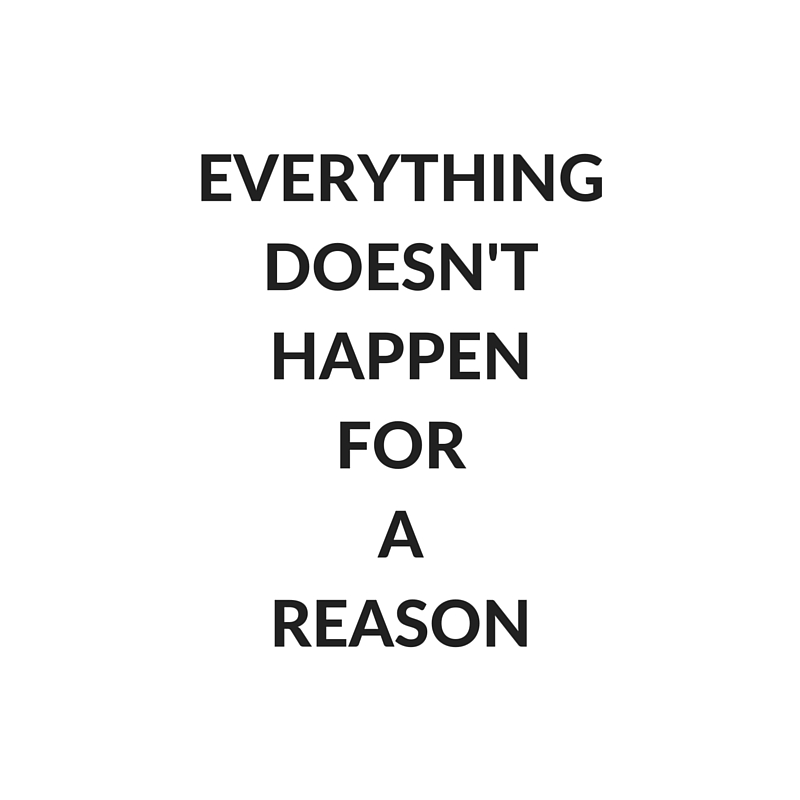 Everything DOESN'T Happen For A Reason
Everything DOESN'T happen for a reason…
Everything just happens, it's you who makes up the reasons.
Why?
It's one of our human needs to crave meaning.
In fact, Tony Robbins created a psychological model called The 6 Human Needs.
The need for meaning relates to the 3rd need he describes: Significance.
The meanings we give things often become stories.
And here's the thing…
Life isn't a story.
Life isn't a meaning.
Life is an experience.
And when you change your story, you change your life.
Your story is how you describe your life.
If you change the slightest detail, it can change you're entire experience of life.
For example…
"I can't believe I just got fired, what am I going to do? My life is over!"
Versus.
"Thank God, I'm finally free to do what I've always dreamed of!"
Or…in response to when someone asks you how you are:
"I'm fine."
Versus.
"I'm good."
Versus.
"I'm great."
Versus.
"I'm fucking AWESOME."
Versus.
"I'm blessed."
NOTHING had to happen in the external environment for you to change your story.
You literally get to make it up!
Why?
Because it is made up!!!
It's a story!!
It's just one way of seeing life!!
And the funny part is it's just seeing life, not experiencing life!
When you experience life, you're so engaged…there is no story, it's just the full on experience of the moment.
In fact, there are no moments…time seems to fade away.
So what's the takeaway here?
Be conscious of the stories you tell yourselves and others, they are shaping your life and influencing the world around you more than you might know.
Be flexible to seeing other perspectives, to changing your story for a better one.
In fact, be open to experience life beyond stories.
[soundcloud url="https://api.soundcloud.com/tracks/255295703″ params="auto_play=false&hide_related=false&show_comments=true&show_user=true&show_reposts=false&visual=true" width="100%" height="450″ iframe="true" /]
Subscribe on iTunes, Stitcher Radio and TuneIn.
Now, I want to hear from you…
What'd you gain from this episode?
Podcast: Play in new window | Download