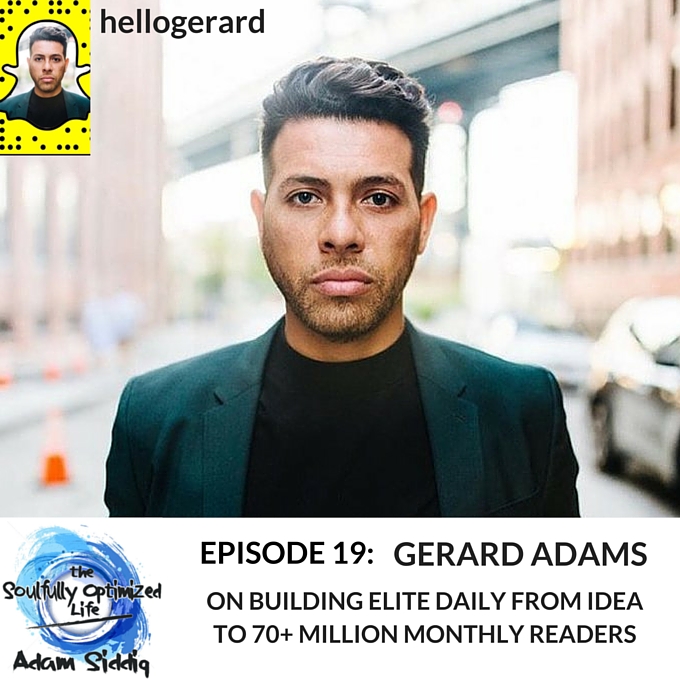 Gerard Adams On Building Elite Daily From Idea To 70+ Million Visitors A Month
On this episode of The Soulfully Optimized Life, I bring on Gerard Adams: a serial entrepreneur, angel investor, philanthropist and the man who co-founded and led Elite Daily from an idea to the "voice of Gen Y"…bringing in over 70 million readers every month.
After acclaiming great success throughout his 20s, Gerard is now on a mission to inspire and contribute tons of value to others so that they can live their dreams.
A few of the vehicles he'll be using is his new YouTube channel, Leaders Create Leaders podcast, Fownders, networking events and personalized mentorship.
This episode is packed with action and energy, so prepare to get inspired to take massive action towards fulfilling your dreams!
Some questions I ask…
What are some highlights from your background and growing up that made you the man you are today?

How did the idea for Elite Daily spark for you and the Founding team?

What were some of the early victories and failures that you learned from with Elite Daily?

What did you do immediately after you sold Elite Daily?

What does Millennial mean to you?

How did the idea for Fownders spark? What's your vision with Fownders?
What are the strongest pieces of advice you'd give to any early-stage entrepreneur?
What you'll learn…
What it truly takes to be a successful entrepreneur.
How Gerard was able to grow Elite Daily from the early days despite the massive competition.
How Elite Daily went from a few writers to 80-100 articles a day.
How Gerard and his co-founders sold Elite Daily for $50 million.
How a wake up call from Tony Robbins about what success really means changed Gerard's life.
What exciting new ventures Gerard is up to now and how to get involved.
[soundcloud url="https://api.soundcloud.com/tracks/248265608″ params="auto_play=false&hide_related=false&show_comments=true&show_user=true&show_reposts=false&visual=true" width="100%" height="450″ iframe="true" /]
Subscribe on iTunes, Stitcher Radio and TuneIn.
Connect with Gerard:
Snapchat: hellogerard
Instagram: @Gerardadams
Twitter: @IAMGerardadams
Email: ga@gerardadams.com
https://www.youtube.com/watch?v=hQIHJR-OHm8
Now, I want to hear from you…
What will you do right now to create your dreams into reality?
Podcast: Play in new window | Download