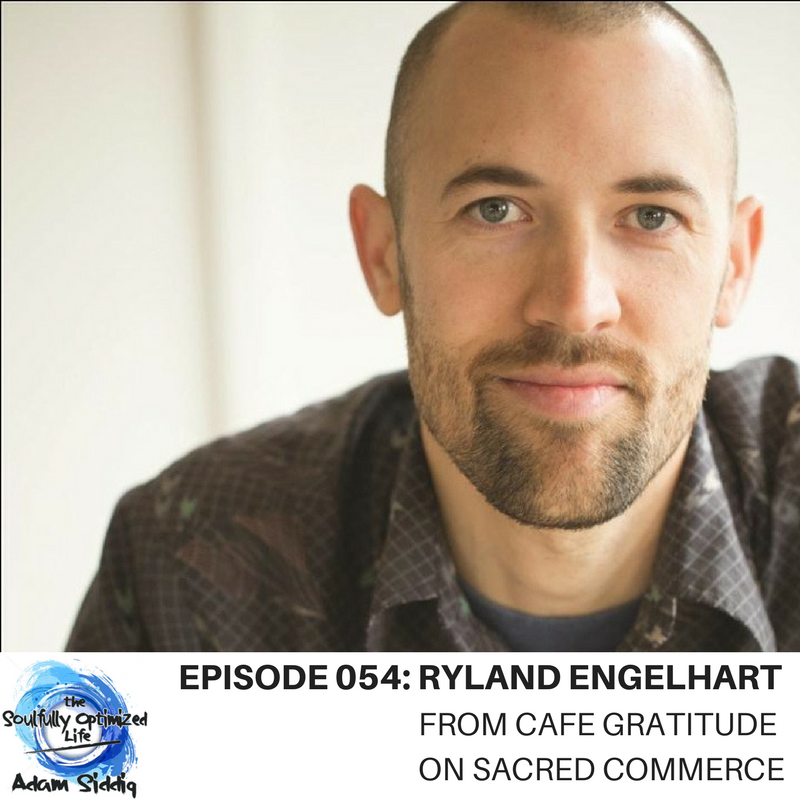 Ryland Engelhart From Cafe Gratitude On Sacred Commerce
Today, our special guest is Ryland Engelhart, who is the Mission Fulfillment Officer for Cafe Gratitude and Gracias Madre (two of my favorite restaurants which I frequently dine at).
If you live in Los Angeles, San Diego, Newport Beach, or San Francisco, and you haven't yet gone to Cafe Gratitude…you need to go and experience the extraordinarily delicious, nutritious, healthy food and positively inspiring atmosphere Ryland and the team have co-created there.
Ryland is also a leader in sacred commerce, not just through his restaurants, but also as workshop leader and a speaker.
He is also the co-producer of the award winning transformational documentary "May I Be Frank".
Our interview hits off with Ryland's raw, real and compassionate perspective that speaks to the discord and divide many of us have felt in the U.S., let alone the world.
We dive and explore the essence of sacred commerce as Ryland tells the story of how Cafe Gratitude went from a mom & pop restaurant to a thriving franchise that sets a new standard for positivity, health, and great vibes that attracts a crowd from all around the world.
Some questions I ask…
What's sacred commerce?
What were the founding principles behind Cafe Gratitude's success…and have they evolved since?
What influenced you and the founding team to create Cafe Gratitude into such a positive atmosphere?
What are your daily rituals for creating more inspiration, gratitude, love, kindness, and light in your life?
What advice would you give businesses and entrepreneurs who want to practice sacred commerce but don't know where to begin?
How has investing in your employees paid off in the business and in their lives?
Tune into this energizing episode below!
[soundcloud url="https://api.soundcloud.com/tracks/304689312″ params="auto_play=false&hide_related=false&show_comments=true&show_user=true&show_reposts=false&visual=true" width="100%" height="450″ iframe="true" /]
Connect with Cafe Gratitude:
Now, I want to hear from you…
What are you grateful for?
Podcast: Play in new window | Download